Advanced Course in Airline and Airport Operations
"Whenever I dream about flying, it's the best feeling in the world."
– Kate M.
Aviation is one of the most "global" industries: connecting people, cultures, and businesses across continents. Air transport facilitates integration into the global economy and creates millions of job opportunities. Historically, Airline Transport has doubled in size every 15 years and has grown faster than most other industries. Every day, around 100,000 flights transport over 10 million passengers and around USD18 billion worth of goods.
Three main reasons are generally cited to explain the ongoing global growth in air travel. First is the increase in low-cost carriers, who have almost doubled their market share over the last 15 years. Second is the growth of the global middle class, with an increased number of consumers now able to afford air travel. Finally, there is the growth in airport infrastructure spending, which has increased the global carrying capacity.
Air Cargo is particularly favorable for shipments of high-value goods such as electronics, jewelry, pharmaceuticals, perishables, and other items. Over the years, airlines have managed to develop this business with high-profit margins.
This is the right time to enter this glamorous and exciting world of the Airline Industry!
> Eligibility: 10+2
> Duration: 8 Months
> Enrolment Validity: 10 Months
> Aviation Industry Structure
> Airline Industry components and players
> In-depth knowledge of Airlines in India and the World
> Airport Operations and Services
> Cabin Crew Role & Responsibilities
> Ground Staff Role & Responsibilities
> Air Cargo Operations
> Promote and successfully sell Air Travel
> Airline Operations and Services
> Airport Operations and Services
> Air Ticket booking on Websites, Portals, and Softwares
> B2B, B2C Air Ticketing
> Amadeus GDS
> Galileo GDS
> Sabre GDS
> International Travel Geography and IATA Codes
> International Fares and Rules
> Add-Ons, Ancillary Services
> Baggage Rules
> ETKT, EMD and BSP
> Ticket Changes, Reissue
> Cancellation, Refunds
> Advise and provide service to guests looking forward to Air Travel in India and abroad
Airline and Airport Operations
Module 01 Introduction to Aviation
Module 02 Airline Operations & Services
Module 03 Airport Operations & Services
Module 04 Cabin Crew Role & Responsibilities
Module 05 Ground Staff Role & Responsibilities
Module 06 Air Cargo Operations
Module 07 Travel Geography, IATA Codes
Module 08 Travel Formalities (Passport, Visa)
Module 09 Fares & Ticketing, EMD, BSP
Module 10 Online Websites and Portals
Module 11 Airport DCS
Module 12 GDS 1 Amadeus
Module 13 GDS 2 Galileo
Personality Development, Soft Skills
> Grooming
> Corporate Etiquettes
> Communication Skills
> Customer Care
> Sales Techniques
> Resume Making
> Mock Interviews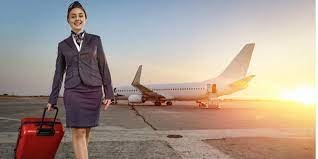 > Airline Operations
> Airline Services
> Airport Operations
> Airport Departure Control
> Air Cargo Booking and Rating
> Special Cargo and Dangerous Goods
> Flight Booking and Ticketing
> OTA's, Airline Portals
> GDS Booking Ticketing (Amadeus,Galileo,Sabre)
> Revalidation, Re-booking, and Refunds
> Word, Excel, PowerPoint, and Emails
> Google Workspace Gsuite
> Presentations and Reports
> Role Plays and Group Discussions
> Practice Quizzes and Coursework
Co-Curricular Field Activities
> Treks around Pune
> One Day Trips, Excursions around Pune
> International Study Tours outside India
> Domestic Study Tours in India
> Events, Exhibitions, Trade Fairs
> Industry Visits to Airport, Hotels, JNPT, ICD, etc (subject to permissions)
> Internal Assessment: 100 Points
> External Assessment: 100 Points
> Online MCQ Examination: 100 Points
> Co-Curricular Field Activities: 100 Points
O (Outstanding): 10; A+ (Excellent): 9 and above; A (Very Good): 8 and above; B+ (Good): 7and above; B (Above Average): 6 and above; C (Average): 5 and above; D (Pass): 4 and above; F (Fail): 0 Ab (Absent): 0
Note: The External Assessment will be done by Industry Experts
By successfully completing the course and examination you will receive an industry-recognized certificate in "Advanced Air Ticketing and GDS Course"
Extra Toppings Benefits Upon Successful Completion Of The Course
> Foreign Language Workshop
> First Aid, CPR Training Workshop
> Airline and Airport Certificates (Upon Passing each Examination)
> Specialization Certificates – Airline and Airport Operations, Air Ticketing, Air Cargo (Upon Project submission)
> Airline Executive
> Air Ticketing
> Airline Fare Desk
> Airline Back Office
> Airport Ground Staff
> Cabin Crew
> Airline Revenue Proration
> Airline Fare Filing
> Airline Customer Service
> Air Cargo Executive
> Air Cargo Special Handling
> Airline GDS Desk
> Airline Cancellation Refunds
> Corporate Travel Companies
> Business Houses
> Sales and Marketing
> Work with major Airlines and MNC Companies in India and Abroad